Thank you Lili from
the Style Spy
for guest posting while I am gone. You all must visit her blog, she has incredible style...of course! and great finds too!
I am thrilled and honored to be here to share some of my spring must-haves to you all. I admire Melanie's style and I hope I am able to share some lovely pretty things to all her equally fabulous readers!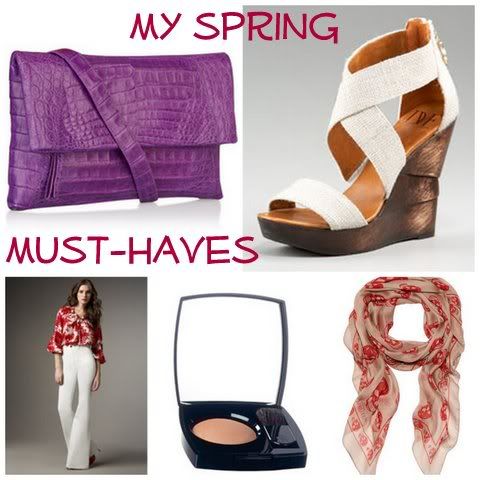 I am always on the hunt for a purse that can be functional during the day and be chic and small-enough for the evening to carry me through a work to cocktail/dinner schedule. This
purple fold-over clutch
may be just IT!
Next up is this pair of
wedges
with burlap crisscross straps that I have been stalking online. They are perfect for spring and could transition easily for a summer pair lovely with a maxi dress or a pair of shorts!
This printed lightweight
chiffon scarf
is such a chic accessory to a plain t-shirt, and with this new rose hue ~ this scarf is seasonless!
I just received this
powder blush
(In Love # 55) for my birthday and I have yet to stop using it. The fresh coral shade compliments my skintone and I love the soft natural hair brush that comes with it.
Lastly, you can not step out in spring without a perfect pair of white pants or denim. This
high-waist pants with flared leg
is such a great look that's a nod to the wide-leg pants trend of the season!
There you have it ~ a few of my spring musts (lusts, really). Thank you Mel for introducing me to your readers and I am just delighted to be here!